Simple operation for instant communication
The IC-F3003 series is so easy to use there's no special training required. The few knobs and buttons are generously sized for easy operation and are designed to provide non-slip, positive action – even while wearing gloves.
Easy to hear in noisy areas
The radio provides 1500 mW* loud and clear audio with Icom custom high power handling capacity speaker. Clear communication is available even in noisy environments.
* Typical with internal speaker
Optional 1500 mW Speaker-Microphone, HM-222HLWP*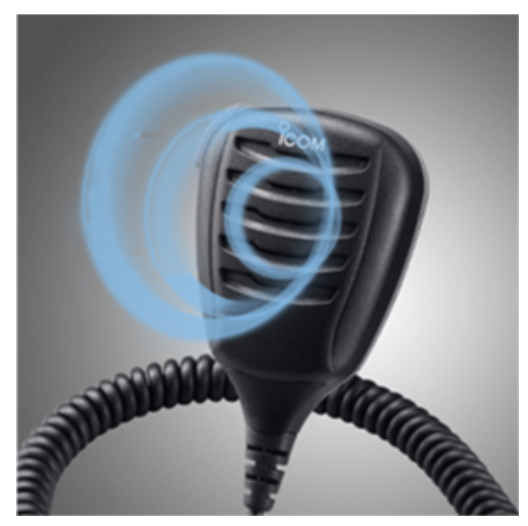 The combination of the optional HM-222HLWP and the IC-F3003 series* also provides 1500 mW (typ.) loud audio from the attached speaker-microphone.
* For the transceiver with a "U" mark on the serial number label.
Longer operating time
A new high efficiency FET of the IC-F3003 series reduces consumption current and provides up to 22 hours* of operating time with the BP-298, 2250 mAh (typical) supplied battery pack.
*Tx:Rx:Standby=5:5:90. Power save function ON.
Weather resistant, dust protection, military rugged
While the radio is a compact unit with a height of only 111 mm, the radio is tested to dust protection and water resistant equivalent to IP54 and 11 categories of MILSTD- 810 environmental tests. In short, the IC-F3003 series is built rugged!
Internal VOX capability for hands-free operation
The radio has the internal VOX capability for hands-free operation. Optional compatible headset with plug adapter cable OPC-2004LA can be used with the radio. Also, the VOX gain and VOX delay time are adjustable.
Selective calling, quiet stand-by and more
2-Tone and 5-Tone signaling gives you selective calling, quiet stand-by and other convenient functions with programming. The radio "stun" function disables a radio over the air and the "revive" function restores the stunned radio.
Scan features
The priority scan allows you to monitor one or two priority channels while scanning other non-priority channels. The TX channel and talk back functions allow you to make a quick response while scanning.
Other Features
DTMF autodial 

CTCSS/DTCS encoder/decoder
BIIS PTT ID transmission
MDC PTT ID and emergency
Low battery alert
2-step power save
PC programmable
Time out timer
Talk around function
Lone worker function
Enhanced emergency
3-color LED
Surveillance function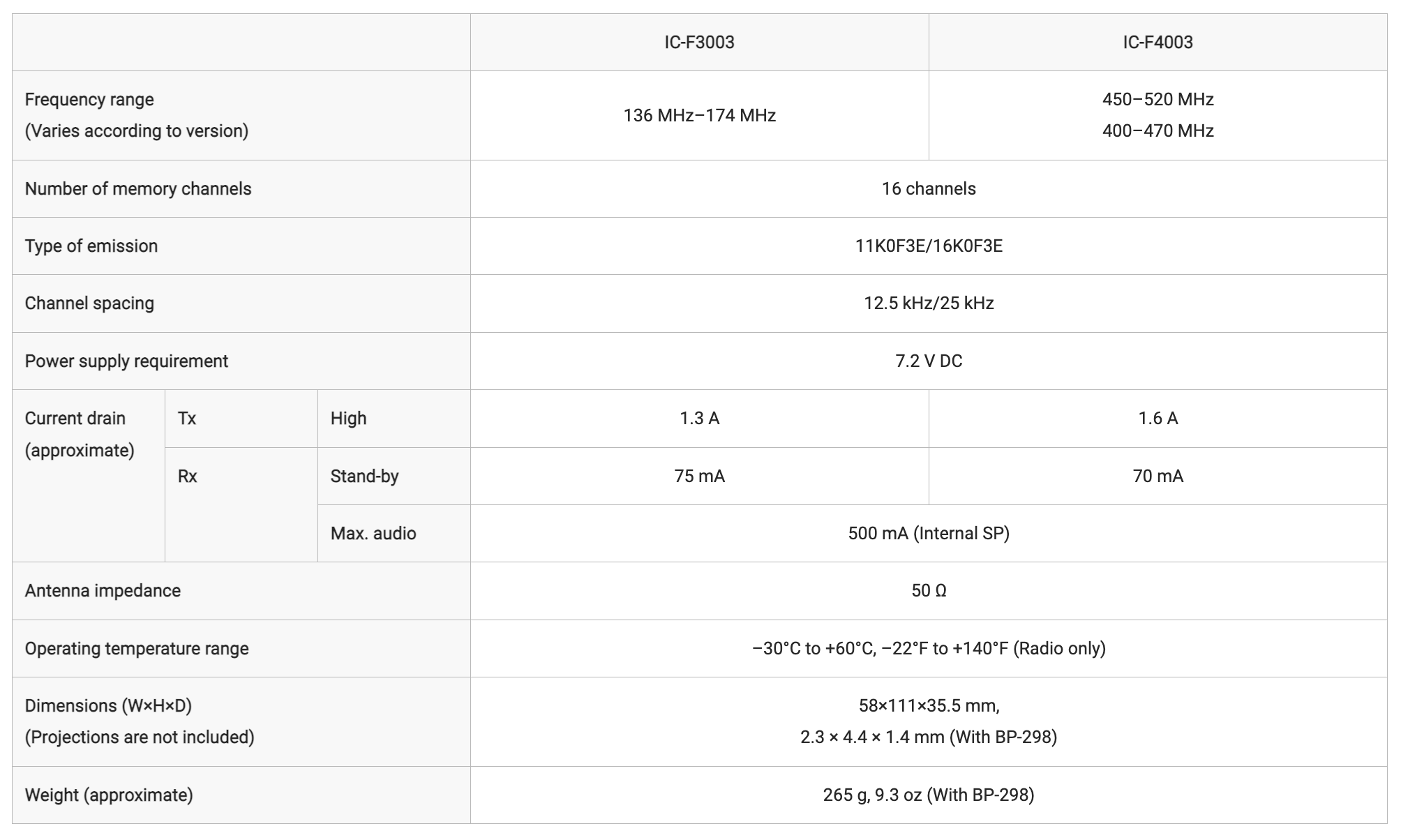 * For the transceiver with "U" make on the serial number label.
Applicable U.S. Military Specifications
Icom makes rugged products that have been tested to and passed the following MIL-STD requirements and strict environmental standards.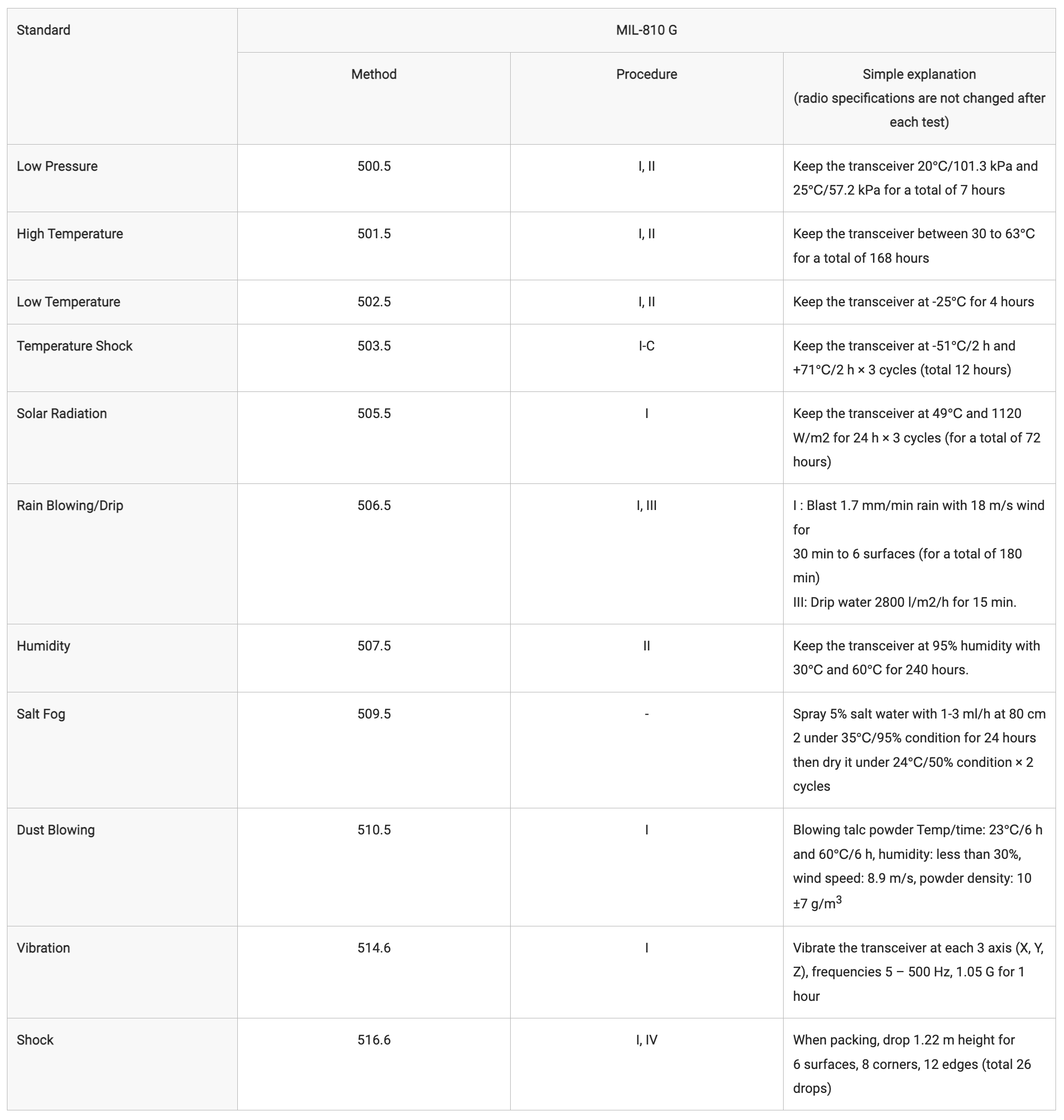 Also meets equivalent MIL-STD-810-C, -D, -E and -F.
Ingress Protection Standard
Dust & Water : IP54 (Dust-protection and water resistant)
All stated specifications are subject to change without notice or obligation.
Supplied Accessories
BP-298, Battery pack

BC-240, Desktop charger
BC-242, AC adapter
MB-124, Belt clip
Antenna