Terminal Mode and Access Point Mode Expand Communication Coverage and Fun
Terminal and Access Point modes* enable you to enjoy long-distance D-STAR (Digital Smart Technology for Amateur Radio) communication through the Internet. You can access the D-STAR repeater network through the Internet, regardless of locations and conditions of nearby repeaters.
* An optional free download software, RS-MS3W is required to be installed in the PC. An optional free download application, RS-MS3A is required to be installed, in the Android™ device.
Terminal Mode
By connecting the ID-4100E to the Internet through a Windows® PC or Android™ device, the Terminal mode enables you to use a D-STAR repeater to make D-STAR gateway calls.

Access Point Mode
The Access Point mode enables another D-STAR transceiver to make D-STAR gateway calls through the ID-4100E connected to the Internet. 50 watts of output power can be used for a D-STAR access point.

Compact, Detachable Controller for Flexible Installation
The controller can be attached or detached from the main unit for flexible installation. By using the supplied OPC-837 controller cable, you can install the controller up to 3.5 meters away from the main unit.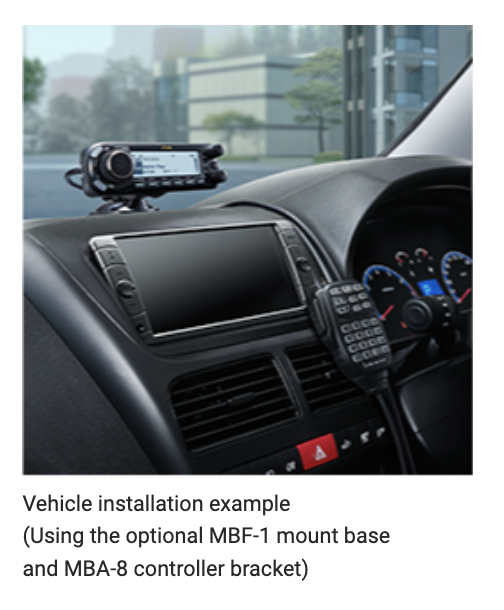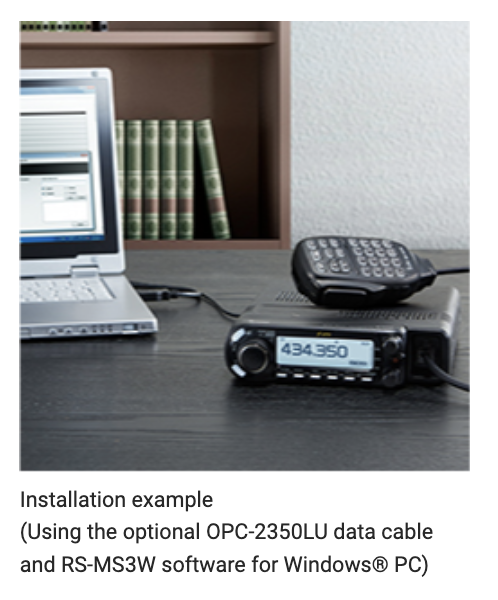 DR (D-STAR Repeater) Function
The DR function makes D-STAR communications simple. By simply selecting a destination call sign in "To", and your access repeater in "From", you can talk with other D-STAR users. In addition, using the reflector function, you can talk through several repeaters at once.
Easy-to-Read Full Dot-Matrix Display
To increase the amount of display information, a full dot-matrix display is used in the ID-4100E. For example, Repeater list or GPS position information are clearly arranged and easy to read.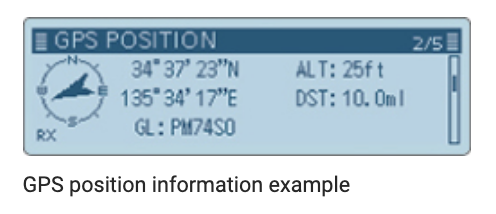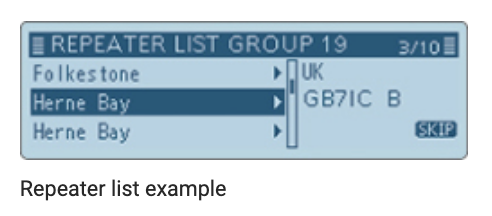 DV/FM Near Repeater Search Function
The DV/FM near repeater search function assists you in accessing nearby repeaters, even in areas you are visiting for the first time. The function searches for nearby repeaters using the repeater memories with the GPS position information.
* To use the near repeater search function, the position data of the repeater is required. The ID-4100E will be shipped with the D-STAR repeater memories preprogrammed, but the position data of some D-STAR repeaters may not be entered or exact.
Applications for iOS™ and Android™ devices*
The RS-MS1I (for iOS™ devices) and RS-MS1A (for Android™ devices) enable you to wirelessly connect to the ID-4100E and remotely set the DR functions, link with a map application and send/receive messages over the DV mode. In addition, pictures taken by a smart device can be transmitted via the DV Fast Data mode or DV mode.
* The optional UT-137 Bluetooth® unit must be installed in the ID-4100E. Some functions may not work properly, depending on smart devices used.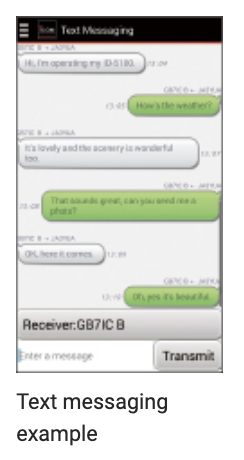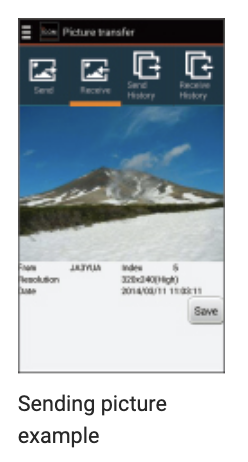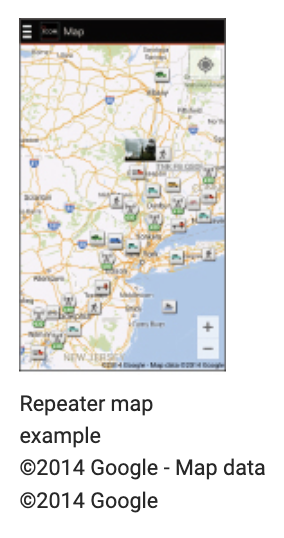 DV Fast Data Mode*
By using the data place in voice frames, the ID-4100E transfers data 3.5 times faster (3480 bps) than in the conventional DV mode (with voice). 
*The DV Fast Data mode is not compatible with the DV mode low-speed data communication.
Wireless Operation with VS-3 Bluetooth® Headset*
The optional VS-3 Bluetooth® headset provides convenient wireless communication away from the transceiver. The VS-3 remotely controls the ID-4100E with three programmable buttons.
* The optional UT-137 Bluetooth® unit must be installed in the ID-4100E.
microSD Card Slot for Voice and Data Storage*
When used with a microSD card, you can store various information including voice memory, TX voice message, QSO log, RX history log and GPS log data. Memory channels and other settings can be saved and loaded into the transceiver.
* A microSD card is required separately.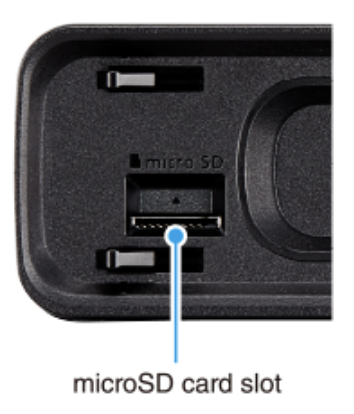 Integrated GPS Receiver
The integrated GPS receiver shows your own position, course, speed and altitude on the display and can be used for exchanging position reports, D-PRS and searching for nearby repeaters
Wideband Receiver
The ID-4100E receives 118–174 and 230–550 MHz*. You can listen to air band, marine and other VHF and UHF utility communications.
* Working range not guaranteed.
Selectable LCD and Key Backlight Color
The backlight color of the LCD and keys is selectable from white, green, amber or blue. Using the backlight night time setting function, the display backlight brightness can automatically be changed when the designated time comes.

UDP Hole Punch function
The UDP Hole Punch function enables Access Point mode or Terminal mode communication (limited function), even if you cannot forward port 40000, or a Global IP address is not assigned to your device. This function is convenient when you are using a free Wi-Fi hotspot.
Note:
Other Features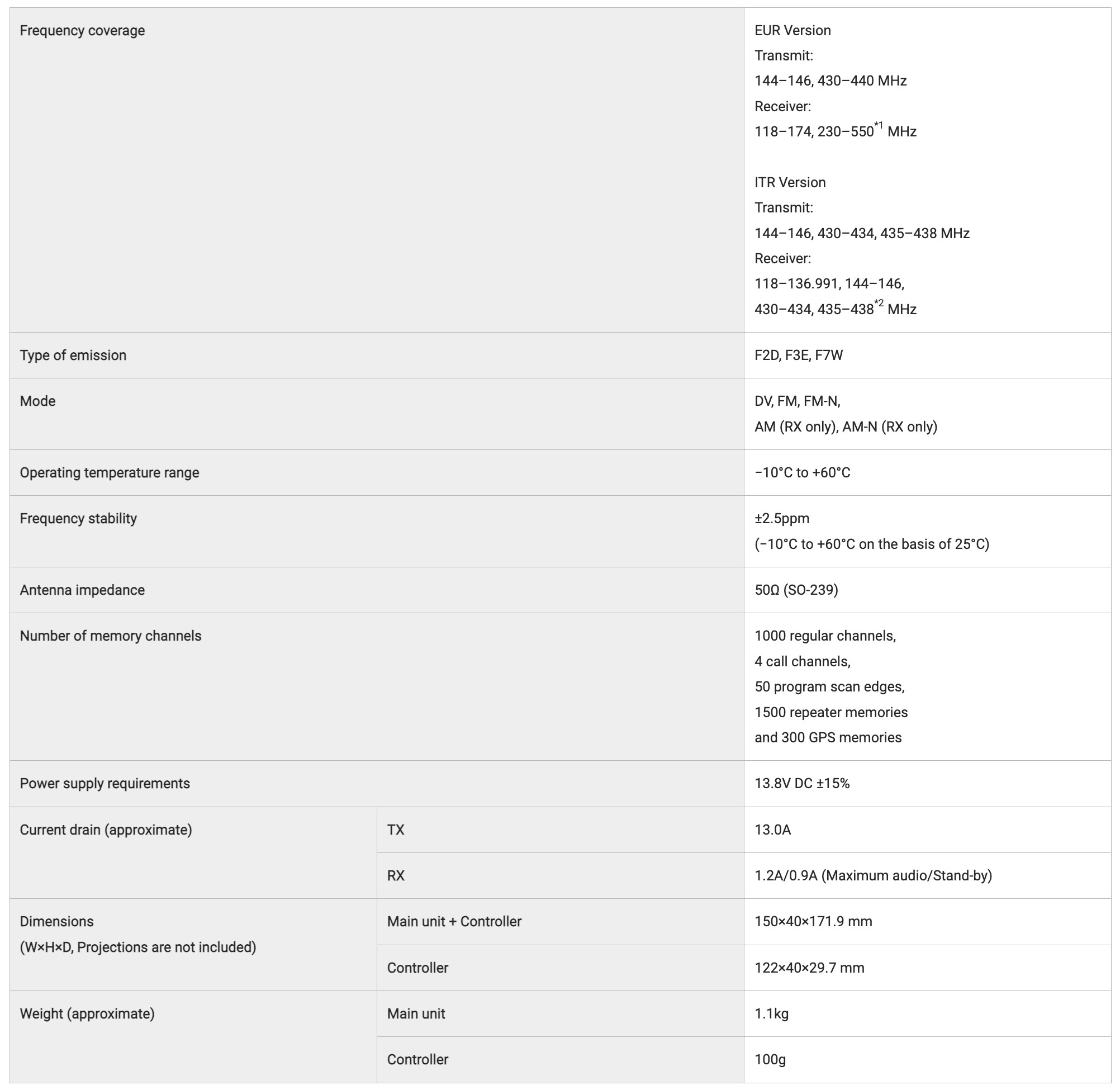 Guaranteed range:
*1 144–146, 430–440MHz.
*2 144–146, 430–434, 435–438MHz
Transmitter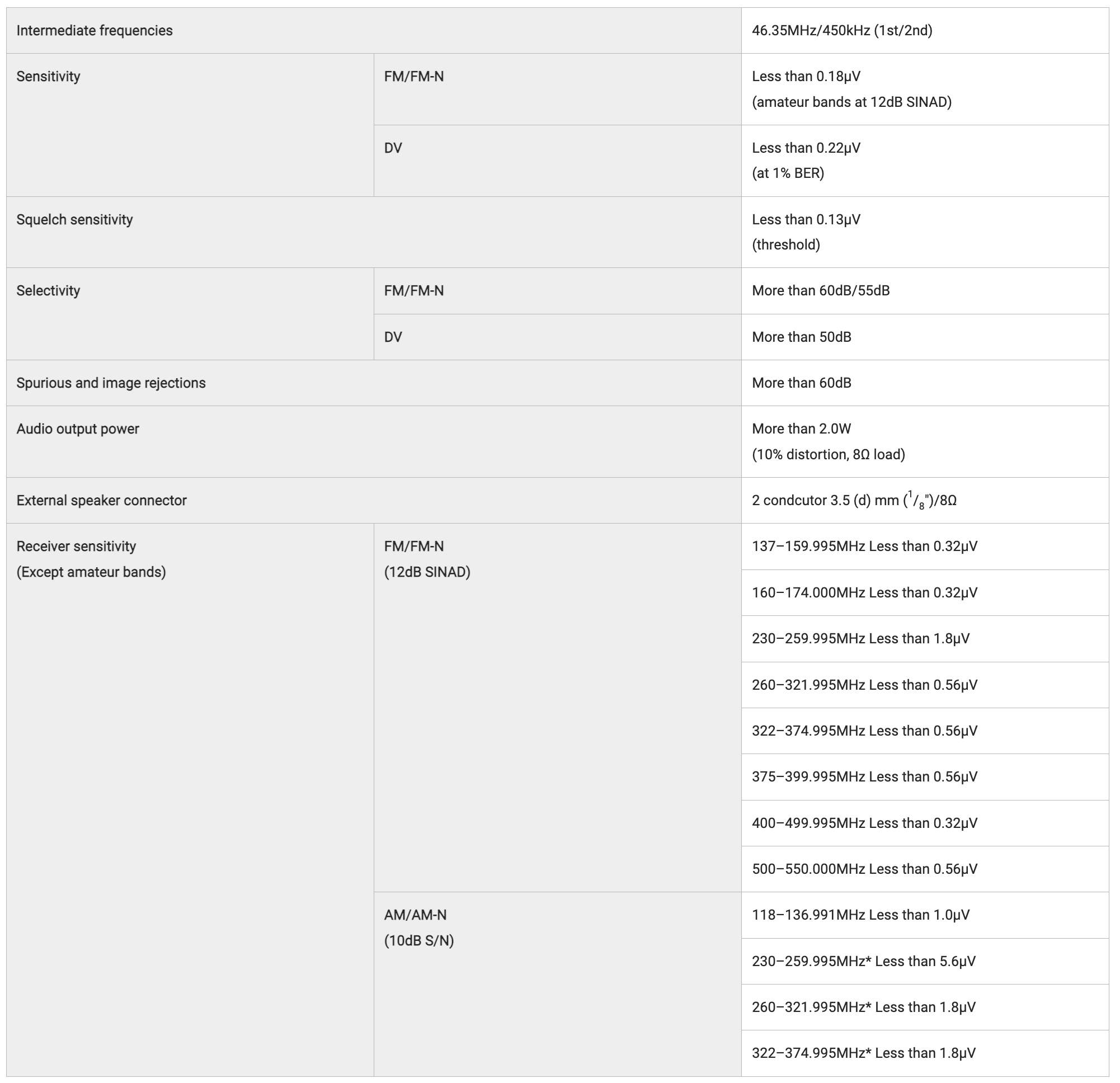 * Only AM mode.
All stated specifications are subject to change without notice or obligation.
Supplied Accessories
HM-207S Hand microphone

OPC-345B DC power cable
OPC-837 control cable (3.5 m)
Microphone hanger
Spare fuse