Equipped with Grip plus,SA8 Fixed Ball Bases
The new MDX R5 is the perfect complement to Canon`s new mirrorless R5 camera. The MDX-R5 is rich in features with all controls ergonomically designed to maximize camera operation. All major camera functions can be accessed from the grip handles through thumb or finger movement without releasing your grip.
Sea&Sea Optical Converter and S&S manual flash trigger compatibility, port locking system plus removal and attaching of lenses while camera is still in housing. Compatible with both native RF lenses and all EF lenses (with mount). In addition, a 24mm port has been included to accommodate HDMI 2 cables for connection to an external video monitor to realize the full potential of the cameras ultra-high video capabilities. A built-in Leak Sensor and a bulkhead for external vacuum sensor provides double protection and increased peace of mind for your camera equipment while diving.
Many more features are available on the MDX R5 to help you gain full potential of all the R5`s features and make your underwater imaging experience unforgettable.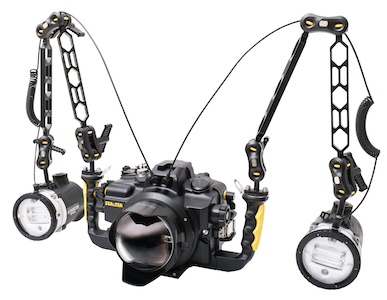 For better noticeability, controls are partially colored with yellow.
All major controls for camera function can be easily operated without releasing your grip on the handle, providing stability and assurance during all imaging situations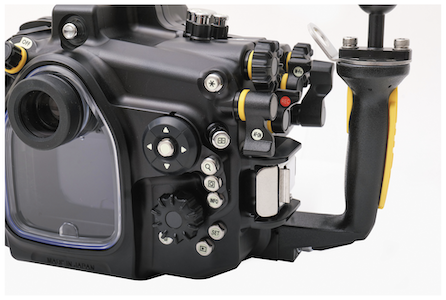 Compatible with the Sea&Sea, "Manual Flash Trigger" (optional). and Sea&Sea Optical TTL Coverter.
24mm bulkhead allows connection of 3rd party HDMI 2 cable for attaching an external video monitor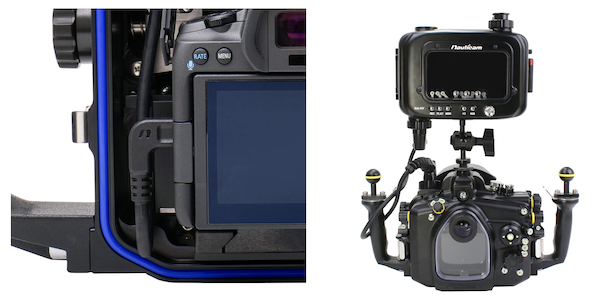 Bulkhead will accept the S&S Vivid housing Vacuum Leak Sensor, or an optional M16 Connector is available to fit third party vacuum sensors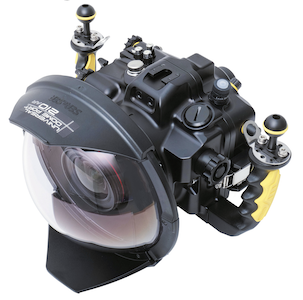 Compatible with all the DX (NX) series ports.
The camera can be removed from the housing easily even if a lens with large diameter such as the RF15~35 f2.8 is mounted on the camera without removing port from the housing enabling you to replace battery and lens with ease.
Specifications
Black / housing only #06198
Dimensions (W x H x D) 345 x 173 x 164 mm 13.5 x 6.8 x 6.4 Inches
Weight, Approx. 2900 gm / 102.3 Oz (Including Grips). Depth Eating 100M / 330 ft
Construction: Corrosion resistant aluminum alloy (machined. Anodized finish)