Revised ergonomic design, improved safety features and eye-catching exterior. The new MDX-L series housings are now upgraded with more standard features to ensure better handling and greater protection for your camera
Equipped with Grip plus,SA8 Fixed Ball Bases,Leak Sentinel XB
・Equipped with new silicone handle inserts for firm and steady grip as standard. Silicone compound material implanted in the grip providing firm hold.
・SA8 Fixed Ball Bases now comes standard with MDX-L series housings
・ Leak Sentinel XB, which measures atmospheric pressure inside the housing even on land, is now a standard accessory together with the conventional built-in Leak Sensor. Two alert sensors are available for your peace of mind.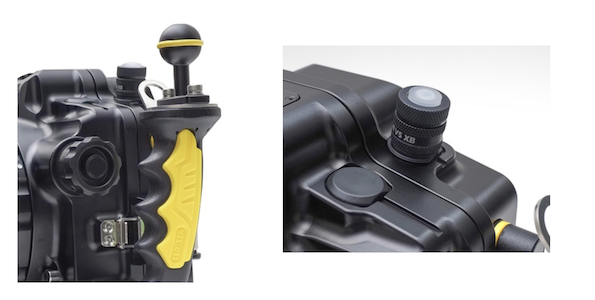 For better noticeability, controls is partially colored with yellow.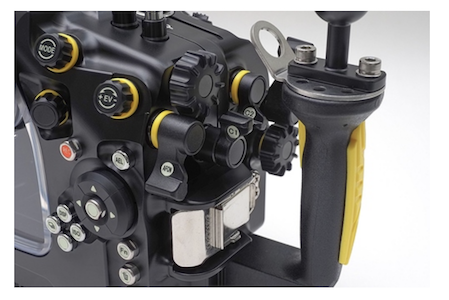 Compatible with the Sea&Sea, "Manual Flash Trigger/S" (optional).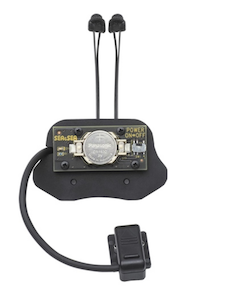 The camera can be mounted in the housing with its LCD monitor extended from the camera to reduce the distance between the rear window and monitor to increase visibility.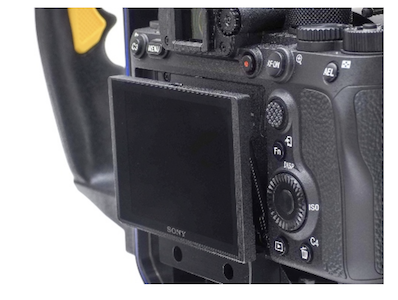 Compatible with Optical YS Converter S1
Compatible with SEA&SEA "Optical YS Converter S1" which converts the strobe light emission signal of the camera to LED light and synchronizes with the SEA&SEA YS strobe. It is a high-performance converter that does not just emit simple light-emitting signals, but also performs TTL auto light control.
* Sony original adapter "ADP-MAA" is required separately for connecting camera and optical YS converter.
Buoyancy Pocket
With Buoyancy Pocket *1, underwater weight has lessened by 240g/8.5oz *2. The pocket can be used as space for extra battery pack *3.
+1  Dimensions: 100x63x24mm/3.9x2.5x0.9 inches.
+2  Compared with the MDX-5D Mark lV, 240g/8.5oz lighter under the following condition:
MDX-α7lV + SEL90M28 + Focus Gear + DX Macro Port 87  (underwater weight: 700g/24.7oz).
+3  SEA&SEA will not take any responsibility for accident caused by use of extra battery or any other accessory stored in the Buoyancy pocket.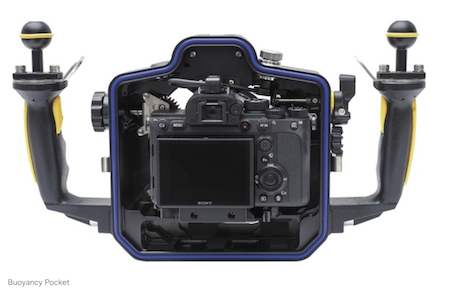 Compatible with all the DX (NX) series ports.
The camera can be removed from the housing easily even if a lens with large diameter such as the SEL1635GM is mounted on the camera without removing port from the housing enabling you to replace battery and lens with ease.
Specifications
[Construction] Body: corrosion-resistant aluminum alloy (machined)
Grip: corrosion-resistant die-cast aluminum alloy
[Depth rating] 100m / 330ft
[Dimensions (WxHxD)] 330 x 189 x 131 mm / 13.0 x 7.4 x  5.2 inches
[Weight] Approx. 2,800g / 98.8oz (Housing only)